Wednesday, January 28, 2015
The Apple Valley Lake residential housing market is experiencing a very active January. There are currently 48 homes for sale today at the Apple Valley Lake, there are 6 pending home sales and during the last 6 months there have been 65 Apple Valley Lake homes SOLD. The number of homebuyer inquires who are calling and emailing us about our Apple Valley Lake residential listings are significantly higher today compared to last year. Our online website property views on AppleValleyOhio.com are also on the rise with daily website page views often exceed 500 per day. This is AMAZING considering the lake is frozen over and it is winter time. The good news is that boating season and warmer weather is only a few months away
The graphic below is a detailed housing market report that highlights all of the most popular Apple Valley Lake real estate price ranges. Take a really close look at the left side columns because we have broken each price range down so you can see which price ranges are hot. The column to the far right shows how many months of available inventory is currently available in each price range. You can also see each of these columns are highlighted by specific colors and the meaning of each color is described at the bottom of the graph (favors buyers, neutral or favors sellers).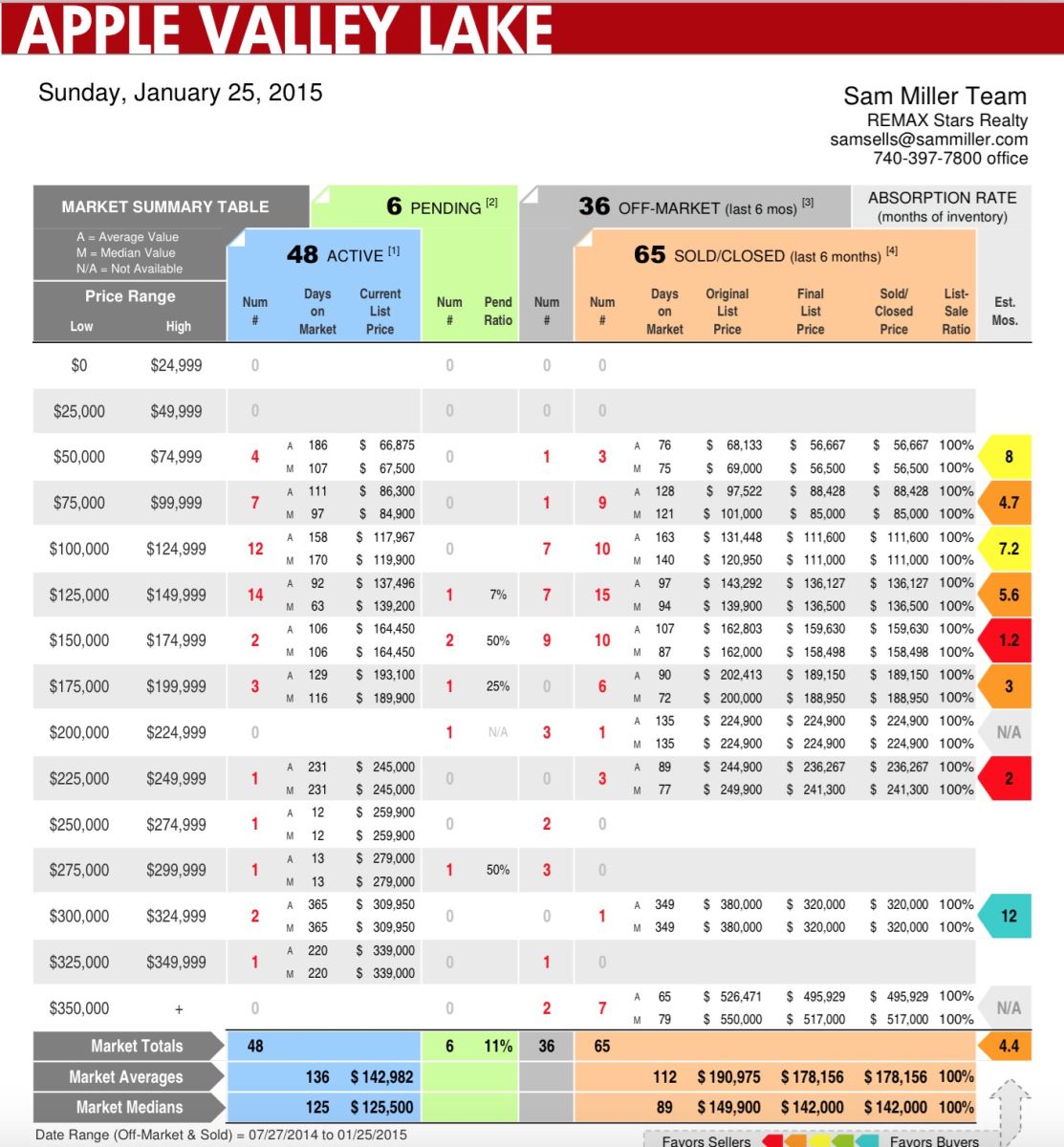 HOTTEST PRICE RANGE: Look at the $150,000 to $174,999 price range and you will notice that it is highlighted in red and this means there have been strong sales in this range and there are currently fewer homes available which makes these homes in demand (more buyers than sellers).
LEAST ACTIVE PRICE RANGE: If you look at the $300,000 to $324,999 price range you are sure to notice that this price range is experiencing the exact opposite and this price range is fairly flat today. There is currently an 1 year supply of available homes in the $300,000 to $324,999 price range based on the sales activity during the last 6 months. Take a look at the specific column that most closely matches your desired price range for an Apple Valley Lake home. This detailed report offers you an insiders view of the Apple Valley Lake housing market.
Our team would love to answer any questions you might have about the Apple Valley Lake housing market so feel free to call or email us at anytime.
Thank you!
Sam Miller
#AppleValleyLake