Latest Apple Valley Lake Home Sales Report Shows That Affordable Homes Are Experiencing A Boost in Sales Activity
Sunday, December 16, 2012
The Apple Valley Lake located in Knox County Ohio has experienced an impressive increase in residential home sales activity specifically for the more affordable homes up to and including $100,000. The following statistics support that the housing market at the Apple Valley Lake not only is experiencing a boost in sales but also it is becoming more balanced overall:
Home sales in the $100,000 price range and below have shown a sizable increase compared to 2011. The 2012 year end numbers will prove to be even better considering that there are still 2 more weeks of MLS home sales that are unreported.
In 2011 the Apple Valley lake housing market averaged a 13 month supply of available homes priced from $100,000 and under and in 2012 that number improved to a much lower 9.9 months. This number should also improve by the end of 2012 when the year end numbers are reported by the MLS.
The most important statistic I can share with you is that $100,000 homes and even the more affordable homes experienced a 52% increase in the total number of homes sold in 2012 compared to 2011. This is a huge boost in residential home sales and it is also a positive sign that the Apple Valley Lake housing market is more balanced today and headed in the right direction.
If you are in the market to buy or sell a home at the Apple Valley Lake now is a great time to make a move so feel free to visit our Apple Valley Lake homes for sale by visiting this link.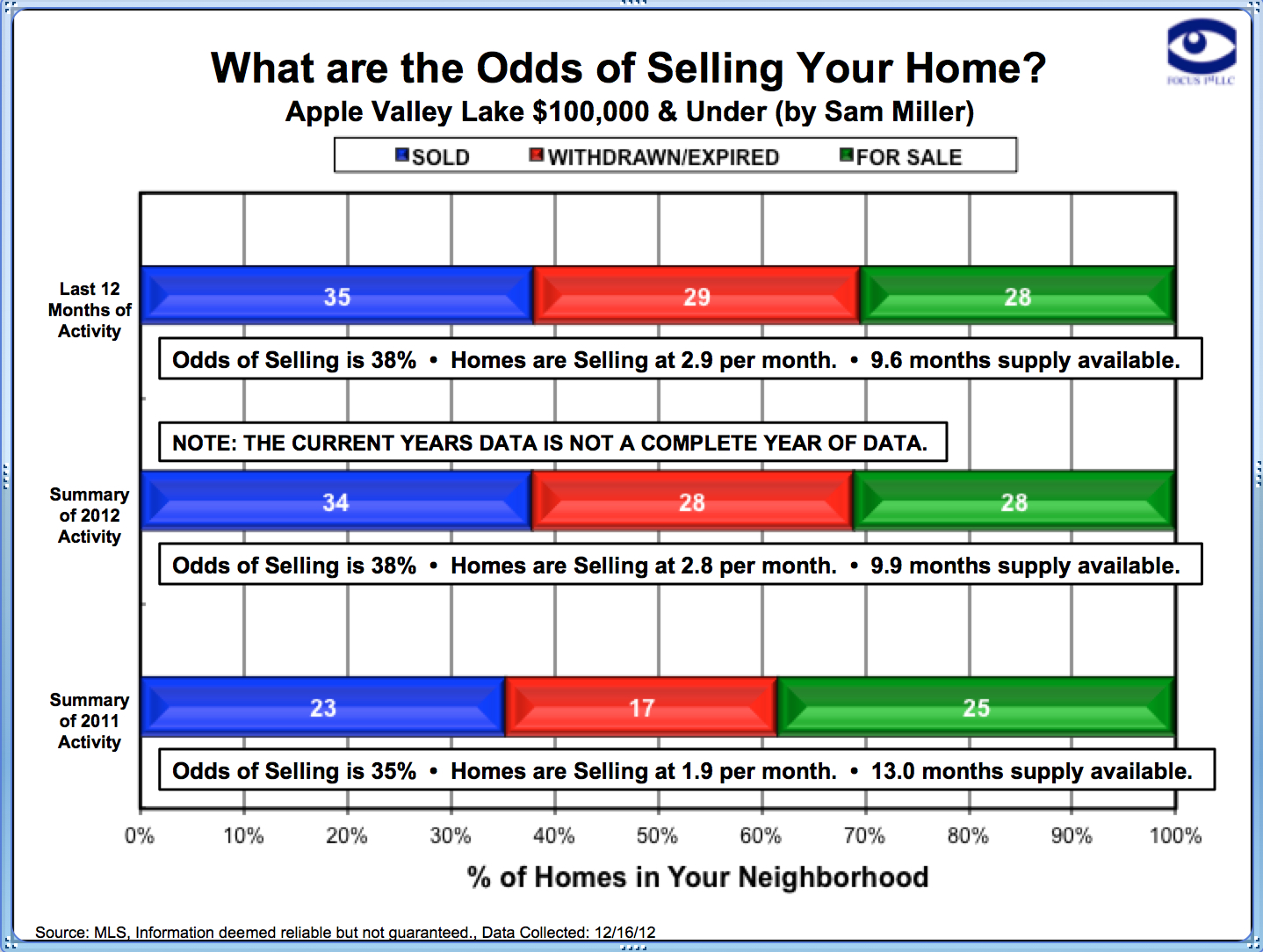 This detailed home sales report was prepared by Apple Valley Lake REALTOR Sam Miller by compiling MLS market data using active Apple Valley Lake homes for sale, homes that have successfully sold at the Apple Valley Lake and Apple Valley Lake homes that failed to sell during their listing period with their Knox County Ohio real estate agent.
Sam Miller Team of REMAX Stars Realty 740-397-7800 AppleValleyOhio.com