Apple Valley Lake View From The Davis Beach Hillside
Monday, October 01, 2012
I took this photo over the weekend from the Davis Beach hillside at the Apple Valley Lake.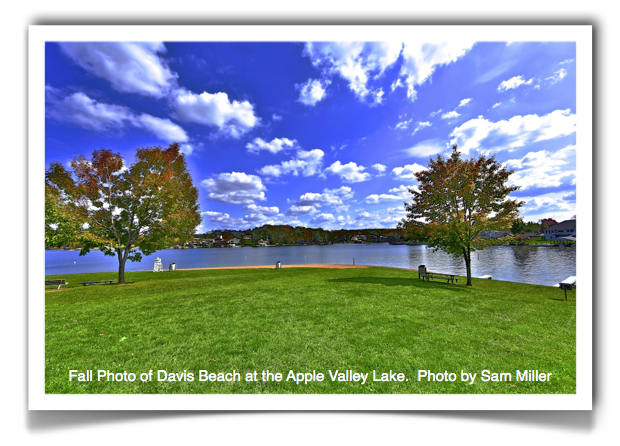 Davis Beach is one of three sand beaches at the Apple Valley Lake and it is popular for swimming, sun tanning, building sand castles, playing volleyball and enjoying picnics and cookouts. Davis Beach is also a spectacular place to go fishing in the Davis Beach Cove which is located just down the hill to the left of the asphalt parking lot.
If you look close you will see that the trees are starting to display their Fall colors. If you are interested in receiving Apple Valley Lake community updates I highly recommend that you subscribe to our RSS feed, you can also bookmark our Apple Valley Lake photo blog or Facebook users can "Like" our Apple Valley Lake Facebook page and our updates will automatically come to you as we update and post them.
Apple Valley Lake Property Owners: If you are especially fond of a particular amenity at the Apple Valley Lake and you would like for us to feature a unique photograph be sure to contact us at 740-397-7800 and we will do our best to create a nice blog feature for you. If you have a beautiful Apple Valley Lake Community photo that you are willing to share and allow us to feature in our Apple Valley Lake Photo Blog please contact us at 740-397-7800 because we would love to highlight your gorgeous photo online.
Are you interested in Apple Valley Lake homes for sale? You can quickly view and compare all of our available Apple Valley Lake homes for sale and we have organized them in price order for easy viewing.
Sam Miller Team of REMAX Stars Realty 740-397-7800 AppleValleyOhio.com