Apple Valley Lake Real Estate Report by Apple Valley Lake REALTOR Sam Miller
Tuesday, January 07, 2014
Let's take a look at the Apple Valley Lake real estate market activity. Currently there are 3 home with sales pending in the market overall, leaving 39 homes still for sale. The resulting pending ratio is 7.1% (3 divided by 42). So you might be asking yourself, that's great... but what exactly does it mean? I'm glad you asked!

The pending ratio indicates the supply & demand of the market. Specifically, a high ratio means that listings are in demand and quickly going to contract. Alternatively, a low ratio means there are not enough qualified buyers for the existing supply. These numbers change dramatically at the Apple Valley Lake depending on the time of year and weather conditions. This time of year with snow on the ground and when the lake is frozen over there are simply fewer buyers looking than compared to the peak boating season during the summer.
During the winter months the pending ratio typically ranges from 6% to 9% which is when the ratio is at it lowest for the year. During the spring and summer we can see the "sale pending ratio" approach 25%. The sunshine months bring people to the lake for a little fun in the sun boating, jet skiing and spending time at the beaches. When people are on the lake it boosts buyer interest and also drives demand for Apple Valley Lake homes.
Taking a closer look at the graphic above, we notice that the $50,000 to $100,000 price range has a relatively higher number of contracts pending sale. We also notice that the $100,000 to $150,000 price range has a relatively large inventory of properties for sale at 14 listings. The median list price (or asking price) for all properties in this market is $142,500.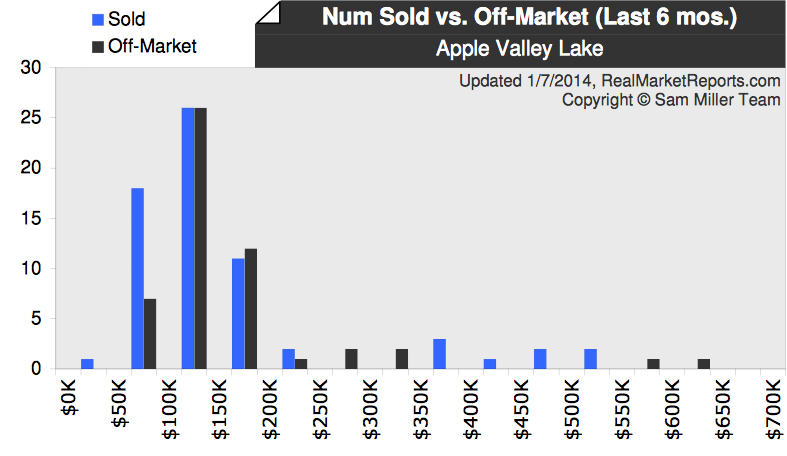 A total of 66 home sales contracts successfully sold and closed at the Apple Valley Lake in the last 6 months with a median sold price of $123,500. Breaking it down, we notice that the $100,000 to $150,000 price range contains the highest number of sold homes. The graphic above shows the level of home sales at the Apple Valley Lake during the last 6 months (in blue) and it also shows the number of homes that were either withdrawn or expired from the market (in black). The graph demonstrates that there are hot spots in the Apple Valley Lake housing market. When the spring season is upon us the these market trends will begin to shift and the Apple Valley Lake housing market will begin to bloom once again.
Facebook users, If you would like to be plugged into regular Apple Valley Lake updates connect with us by clicking and "Liking" our Apple Valley Lake Facebook page.